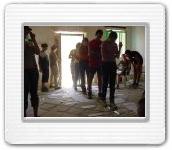 The Light In The Distance
Our eyes are closed,
Our hearts are open.
Houses have fallen,
But hopes still stand.
Paranoia was once a raging wind,
The armies,
Its "swift" and "skillful" tool.
Propaganda,
The cold and jagged edge.
But YEP 4 knows the truth,
Standing 4 square, 'gainst the winds continuing echoes,
Standing 4 square in the dark,
Standing 4 peace and friendship.
"Go Yep 4,"
Fear no more,
It's our time now,
Our moment in the light.
Costas Fantis
We have been critisized,and teased......no matter what they say, we will stand strong,our forest is growing,our roots are growing stronger, like our love for each other.One day we will be free,we will live in peace and harmony, then we will be indistructable.
Charalambos V.
The Great WarriorOh, great mighty warrior, dressed in your armor of love,holding the sword of compassion and the shield of protection.Cover us with your wings of happiness and set us free from this enemy, this enemy of hatred, this enemy of destruction.Down comes your foot and mountains shake as you walk through the valley that was once yours, the valley of the enchanted lands.Down comes your sword and passes through hatred but doesn't take his life away. It sets him free and makes him one of us. He will now live for your honour.Our time will come! This day will come, when peace will step forward and defeat the great monster of hatred.
Michaelangelo Anastasiou