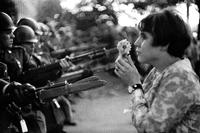 Marc Riboud, Washington DC,1967
NO STONES, NO BULLETS BUT FLOWERS!
Bullets and stones are two things that I believe symbolize the most recent waves of violence in Cyprus. The demonstrations by Greek Cypriots at the borders ended up as stone-throwing contests. They were replied in a similar manner on various occasions by Turkish Cypriot stone-throwers. Bullets came along in the meantime through the various shootings and killings at the border of unrelated incidents and the killings on August 1996 at the border demonstrations. Both sides succeeded in bringing the smell of blood and vision of violence to their young people who grew in a divided island with continous brain-washing of hathred but atleast without seeing blood. They showed how they are both shameless enough to use civilians in state-sponsored violence. They showed how both needed blood to continue their conflict!
Bullets symbolise militarism. They were present in the Cyprus conflict since the very begining from the British colonial times and they still are there. They hurt innocent people , they hurt guilty people. They hurt young people, they hurt old people. They hurt everybody. They stand in the way of people who believe in peace, they can stand in the way of bloody-criminals.
Stones symbolise the unfortunate involvement of civilians in this conflict (not that civilians were not using bullets against each other). The hathred, animosity and such feelings amplified through nationalistic rhetoric show themselves in stone-throwing crowds.
Flowers were the reply of a group of Turkish Cypriot peace-marchers to these incidents. They are common symbol for peace and friendship. As symbolized in the photograph by Marc Riboud in the main page, flowers are the way of non-violent rebellion against militarism and violence itself. Flower-people of sixties are in the minds of many people. Flowers are beautiful. They grow everywhere , on every condition; in a desert, on barbed wire, in a bloody battle field. In the meantime, they are very delicate; they get hurt by violence, they like to be left in peace.
Below you can find a short description of what happened on Jult 19th, 1997 in Cyprus along with the declarations released. I was one of the organisers of that event. In making these pages, I decided to use that slogan as the main theme of these pages. I should note here that other people involved in that original event are not necessarily involved in any manner in the creation of these pages, neither do they necessarily agree with what is presented here. What is presented here is solely my own views and creations. I do , however, believe that those brave people involved in that event share a great deal of what I have here.
NO STONES, NO BULLETS BUT FLOWERS!
Turgut Durduran
http://www.stwing.upenn.edu/~durduran/cyprus1.html
http://www.sas.upenn.edu/~durduran/nostones.html
---
No Stones, No Bullets, But Flowers
Declaration Released by T/C Peace Marchers, who named themselves as 'A Group of Peace-Loving Youth' is as follows. This group of young T/C's marched to the Ledra Palace check-point through a main-road in Nicosia chanting slogans for peace, carrying banners and flowers. Then after a while of chanting at the border, they sent their flowers to the representatives of 19 G/C organisations waiting on the other side of the line. In turn they received symbolical bunch of flowers and the following letter. This event took place on 19th Jully 1997, on the eve of very tense days in Cyprus.
---
No Stones, No Bullets, But Flowers
---
In these tense days, as the peace-loving people of Cyprus we break through all the obstacles and share flowers instead of stones and bullets. We do not want any more days filled with war and death memories. We want to replace the green line, the shadows of the weapons, the rust of the barbed wires, and the military posts with flower fields!

We Want:
A demilitarized island,
A federal state,
A democratic country,
A heaven of human rights,
A piece of land without borders, with freedom of movement together in peace with the whole world!
A GROUP OF PEACE-LOVING YOUTH
19 July 1997
---
---
(Turkish Version)

Tas, Kursun Degil Cicek
---
Icinde bulundugumuz bu sicak donemde Kibrisli barisseverler olarak butun engelleri asiyor ve tas, kursun yerine cicek atiyoruz. Kibrista savas ve olum anilariyla dolu gunler olsun istemiyoruz. Yesil hatti, silahlarin golgelerini, dikenli tellerin paslarini, mevzileri cicek tarlalariyla degistirmek istiyoruz!
Silahsizlandirilmis bir ada,
Federal bir Kibris,
Demokratik bir yurt,
Insan haklari cenneti bir ulke,
Sinirsiz ve herkesin ozgurce dolasabilecegi
Ve baris icinde dunyayla butunlesmis bir kara parcasi istiyoruz!
Bir Grup Barissever Genc
19 Temmuz 1997
---
And they received the following message from G/C organizations who sent them flowers in return
---
Message to the T/C Peace Marchers
---
Congratulations for your original and brave initiative and thank you for your warm and peaceful message! We fully second and support the ideals and ideas included in it.
The Forum for Peace and Reunification, which is composed of 19 organisations (political, trade union, cultural and other), is ready to organise various activities jointly with T/C organisations.
We also look forward to the day we can communicate and meet freely.
Let us hope and work together, so that that Day comes as soon as possible!
19.7.1997
On behalf of the Forum
Costis Kyranides
Chairman of the Peace Center
Note: Each flower represents one organisation (19) of the Forum.
Mirrored from its original location: http://www.sas.upenn.edu/~durduran/nostones.html